Private equity and venture capital
Private equity is an asset class that generally refers to investments in companies that are not listed on any stock exchanges. Usually private equity is considered to be the roof nam of all non-public investments from early venture capital to mezzanine financing, pre-IPO rounds and also in public-to-private transactions.However, the main private equity deals include expansion financing and different types of buyouts (MBO, LBO, MBI).
The founders of Essentia Capital have carefully studied the Central and Eastern European (CEE) private equity landscape over the years and invested in several leading private equity funds. Furthermore, the founders have extensive competence and knowledge of setting up, launching and administrating a standardised private equity vehicle or fund.
Although Essentia's key strategy is biased towards mezzanine financing, private equity as an asset class with very close ties to mezzanine, is also one of our key focus.
We are advising regional companies on their efforts in raising equity capital and help the entrepreneurs to meet the proper investors from the CEE region.
On the supply side, we advise many CEE regional private equity funds who declare the Baltics as their investment area in their deal sourcing process in Estonia, Latvia and Lithuania.
Private equity
j-curve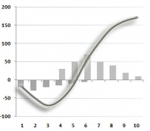 To read the explanation of j-curve shaped cash flows click here